Have you ever thought about getting cosmetic injections to treat your wrinkles and fine lines? With over 3 million botulinum toxin injections occurring every year, wrinkle erasing injections are a popular, safe, and effective method to treat signs of aging on the face.
These injections are most commonly referred to as "botox". However, Botox is only one brand of botulinum toxin injection that can be used. Dysport is another brand of botulinum toxin that is also used to treat the appearance of wrinkles.
At Colair Beauty Lounge & Med Spa, Dysport and Botox are some of the many different cosmetic injections we offer. Dysport injections will smooth out the signs of aging in your skin, resulting in a younger appearance in just a few days.
But what is Dysport, and how long does Dysport take to work? What are the differences between Dysport vs. Botox? Keep reading to find out all there is to know about Dysport. 
What Is Dysport? 
Dysport is a formulation and brand of botulinum toxin Type A, or more specifically of abobotulinumtoxinA. Dysport is injected into the skin and can be used for both medical and cosmetic purposes. 
At Colair Beauty Loung & Med Spa, we use Dysport for cosmetic purposes only. This injection is used to treat the wrinkles that occur between your eyebrows, commonly referred to as "11 lines" or "frown lines", forehead lines and "crows feet" or "smile lines" near the eyes. 
The appearance of frown lines can become quite pronounced as you age, and these lines will typically grow deeper with time. Dysport can help erase the appearance of these stubborn wrinkles, and leave you with more youthful-looking skin. 
How Does Dysport Treat Wrinkles?
Wrinkles form as a result of repetitive muscle movement in specific parts of the face. For example, raising and furrowing your eyebrows repeatedly over the course of many years can lead to forehead wrinkles and frown lines. 
Dysport wrinkle injections target and reduce the muscle contractions that lead to fine lines and wrinkles between your eyebrows. 
It is only approved to treat frown lines. However, if you are concerned about the signs of aging on other parts of your face or body, there's no need to worry! 
At Colair, we offer a wide variety of anti-aging beauty solutions. From other anti-aging injectables to thorough facials and miraculous chemical peels, our team can help you decide which options work best for you and your skin!
The Results: How Long Does Dysport Take To Work? 
One of the many benefits of Dysport is that it is fast-acting, with most people starting to see results within 2-3 days! The full and final results should only take a 7-14 days to appear, making Dysport one of the fastest wrinkle treatments.
As with all other anti-aging injectables, the results of Dysport are not permanent. Most people need Dysport touch-ups every 3-4 months, which provides an added benefit for first-time users that want to try wrinkle injections without a lengthier time commitment. 
Dysport vs. Botox
Dysport and Botox are both anti-aging injectables that we proudly offer at Colair. These injections are both formulations and brands of botulinum toxin Type A. Though Dysport and Botox have similar qualities, there are also important differences between these two cosmetic injections. 
The differences between Dysport and Botox come from the different proteins involved. As mentioned previously, Dysport is formulated with abobotulinumtoxinA. Botox, however, uses a slightly different botulinum toxin called onabotulinumtoxinA. 
The different formulations of Botox and Dysport account for key differences between both treatments including:
Treatment areas

The time it takes for results

How long do results last

Cost of treatment
Treatment Areas: Botox vs. Dysport 
Botox and Dysport are both used to treat wrinkles in the upper half of the face. 
Dysport is approved to treat wrinkles between the eyebrows. These wrinkles, commonly called "frown lines", can be effectively lessened with Dysport injections. 
Botox can also treat wrinkles between the eyebrows. However, Botox can treat areas other than frown lines, including the crow's feet (wrinkles around the eyes) and forehead wrinkles. 
Time It Takes For Results 
One will start to see the results of Dysport after only 2-3 days, with final results appearing after one week. 
Botox results may not appear until one week after injection, with results taking as long as one month to appear on the face.
How Long Do Results Last?
Dysport and Botox wrinkle injections can last anywhere from 3-4 months, with some people seeing results for even longer.  
Cost of Treatment
Between Dysport and Botox, Dysport is the most cost-effective option. 
At Colair, one unit of Botox costs $10.50, whereas Dysport costs $4.50 per unit. However, with Dysport you need double the Botox units. In the end you may save a little with Dysport. This may be something to consider when deciding on which wrinkle injection suits you best, however both options will be thoroughly discussed with Colair's Registered Nurse prior to treatment. 
Benefits of Dysport
Dysport is a great and effective option for treating stubborn frown line wrinkles. The benefits of botox are numerous, and include: 
Fast results (2-3 days)

No downtime

Lasts 3-4 months

Very effective at targeting frown line wrinkles

Can be tailored to your specific cosmetic needs
If you're wondering how to reduce wrinkles, Dysport is a great and safe option available through our skilled injectors at Colair! 
Other Cosmetic Injections
If you have concerns about other signs of aging on other parts of your face that neither Dysport nor Botox don't cover, don't worry! Our services at Colair provide a number of other anti-aging treatments. 
If you are concerned about fine lines around your mouth, or if you're worried about a loss of volume in your face due to aging, then fillers are another great option for you. 
These cosmetic injections will increase volume in the skin, and fill in deep-set lines on other parts of your face. Many people opt to get both Botox/Dysport and filler to maximize anti-aging results!
Say Goodbye to Fine Lines and Wrinkles
What is Dysport, how long does it take to work, and what are the differences between Dysport vs. Botox? Now that you have the answers to these questions, and even more information regarding Dysport wrinkle injections, the next step is booking your treatment!
At Colair, our team of medical experts will assess your wrinkles and determine the dosing and injection sites that work best for you. Are you ready to look younger? Contact us today to find out more!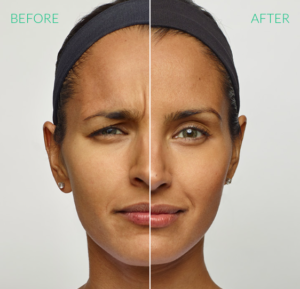 So who is Dysport right for? Anyone who wants to treat fine lines, wrinkles and especially if you want to take a preventative measures altogether. The treatment takes 10-to 20-minutes and there's very minimals downtime, meaning you can get back to schedule quickly. If you're interested in learning more about Dysport or Botox, please visit us at Colair Beauty Lounge & Med Spa in Gilbert, Arizona.
Colair Beauty Lounge & Med Spa is currently running a promotion on Dysport and Botox.
(480) 923-6138 1440 S Higley Rd Suite 108, Gilbert, AZ 85296