It feels like Christmas at Colair Beauty Lounge & Med Spa. The most incredible piece of beauty technology has landed at your favorite Gilbert med spa. The Emage Image Pro 4D is going to change the way you approach skincare. Though we could go on and on, here's five reasons to love this incredible piece of tech.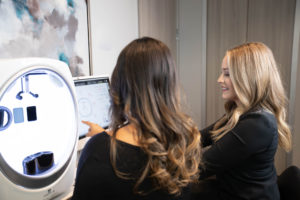 1.) Pulls Up the Finest Details
Not unlike some ocean floor scan, the Emage Image Pro 4D can actually show us a 4D scan of your face; pores, depressions and even sun spots. This is the ultimate intel report, showing us the intimate details of your skin.
2.) Identifies Future Problem Areas
Want to know the future of your skin? With this marvelous tool, those scans of your skin can actually tell us what and where your future problem-areas are going to be. This will allow you to make decisions to soften issues, before they're even issues.
3.) Shows Sun Damage
Sometimes we need a harsh reminder of the sun's damage to our faces, especially living in Arizona. This skin imaging tool shows us sun spots, telling us if you should receive treatments and where to focus at. Most of all, this is the ultimate sunscreen reminder.
4.) Gives You Insight Into Your Med Spa Treatment
Have you been interested in that amazing med spa treatment, but just can't picture what the results will look like on you? Sometimes those before and after shots can be a little less than relatable. With the Emage Image Pro 4D, we can show you YOUR face and the projected results of treatments. You will actually be able to see the results on your face, not some strangers. This will inspire confidence in your decision making for treatments.
5.) Shows Results and Treatment Progress
You won't have to rely on bathroom selfies to see the progress you've made after your treatments. Because the Emage Image 4D Pro captures the state of your skin in such an in-depth manor, we will be able to show you the results and progress of your treatments in near microscopic details. Seeing the results of your treatment will provide confidence in your investment in yourself.
If you'd like to learn more about this state-of-the-art skin imaging tool and how it can help you achieve your skincare goals, please visit or call Colair Beauty Lounge & Med Spa at (480) 923-6138.