When we think of lip injections, it's easy to picture the Kardashians or other celebrities using the filler to plump their lips. Women are the largest client base when it comes to getting lip fillers. But, what about guys? Is this service for men as well? Or does the thought of getting a needle to the face freak you out? Colair Beauty Lounge & Med Spa is here help fella's get the lips of their dreams.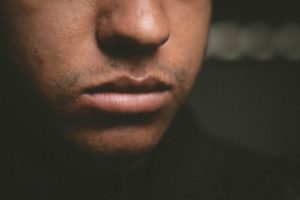 As we get older, our natural elasticity in our skin fades, and the fat stores that create fullness in our faces diminishes. This leaves us often looking sullen, less youthful, and with thin lips.
While it's not considered masculine to want fuller, plump lips, some men have trouble accepting the changes in appearance from the aging process. The change comes on gradually, but once you notice it, it's hard to ignore, and nature won't bring that youthful exuberance back.
So, if you're a guy aching for plump, puffy, kissable lips, here's what you need to know about lip injections for men.
Yep. A needle to your face. Ready for the juicy details?
Lip Injections Offer Temporary Solutions
First, what you need to understand is that dermal fillers and lip injections offer a temporary solution. This can be a good thing or a bad thing. It means that you can try it and see if you like the results. If you don't, eventually, your lips will go back to their thinner existence. If you do, then you'll need to continue getting injections to keep the results.
There are two different kinds of lip fillers—synthetic and natural fillers. Both create a fuller look after being injected to the dermal area of your skin. The hyaluronic acid will eventually absorb, leaving you needing another boost of filler. You may also see this referred to as lip augmentation.
How Long Do Results Last
If you choose to get the lip injections, your results generally last about 6 months, so be sure you're comfortable making this change. It's not going away in a week's time. While hyaluronic acid is typically the filler of choice, there is another option where fat is removed from one area of your body, and then is used as filler for your lips. Most people opt for the simple lip fillers with hyaluronic acid due to the quickness and ease of the procedure.
The doctor will dot or mark the area to be corrected, and then insert thin needles into your skin to apply the filler. Think of it as similar to the experience of getting Novocain at the dentist's office. After the procedure, ice can help with the discomfort. You'll see the results immediately, so make sure you go with a reputable doctor who has a solid reputation and good reviews.
Ready for the lips of your dreams? Try lip injections for men. Give Colair Beauty Lounge & Med Spa a call and set up an absolutely free consultation (480) 912-5325.