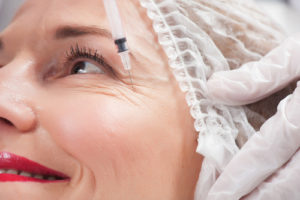 Are you debating about which hyaluronic acid filler is right for your skin and wrinkles? Colair Beauty Lounge & Med Spa Gilbert AZ can provide a free consultation with our certified nurse injection specialists. Our clients are often interested in Juvederm and Voluma, and compare Voluma VS Juvederm.
Both Juvederm and Voluma are types of hyaluronic acid fillers and the absolute latest in beauty enhancing clinical treatments. They are also completely safe, FDA approved and, although they are long-lasting but not permanent, they are reversible should the patient desire. These treatments do, however, differ in a few key ways that all potential users should know.
Firstly, hyaluronic acid fillers are simply a natural substance already found in the human body. High concentrations are found in places like our cartilage, joint fluid and soft connective tissue. Science has found a way to extract this naturally occurring acid, reformulate it and distribute it as what has become the most popular kind of injectable filler for its firming and smoothing effect on skin. It is the key ingredient in both Juvederm and Juvederm Voluma. Juvederm is used to add fullness or evenness to lips and smooth any wrinkling in the area of skin surrounding the lips, especially the area between the nose and mouth. Juvederm is also popular for use in softening what are known as "marionette lines" between the mouth and cheeks which occur with age.
Juvederm Voluma is typically used as a cheek filler. If you are comparing Voluma VS Juvederm, and would like to enhance your cheeks, Voluma is a great choice! It is FDA approved for deep injection into sunken cheeks which often occur as a person ages. Due to the depth at which it should be injected, Voluma is a much stronger filler and not interchangeable with the gentler, surface-level Juvederm formula. Both are excellent options for beauty enhancing facial treatments and both are offered by Colair Beauty Lounge & Med Spa's skilled staff. All procedures come with a completely free consultation prior to appointments in order to educate the client fully and allow for the most confidence and comfort going into the treatment.