Have you been interested in getting lip injections, but the very typical post-poke swelling doesn't sound too appealing? At Colair Beauty Lounge & Med Spa we are all about the lip filler Versa. All of the volume, but with no swelling after injection.
Few things top the look of perfectly plump lips. And as we age, even if they were one time full, our lips can loose a bit of their volume. When you get lip fillers at Colair Beauty Lounge & Med Spa, you're in the hands of professional who can help direct and establish the goal result you're after. Afraid of doing too much? Fear not, our registered nurse knows exactly how much/little you need. What if you change your mind after? Not a problem, we can inject a solution that removes it.
Why Versa Lip Filler?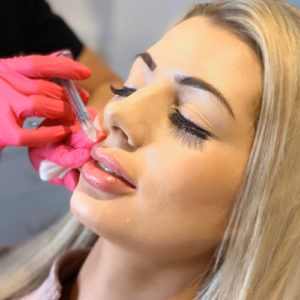 But why go for Versa? For one, it's a hyaluronic acid— a natural substance naturally produced in your own body. It can do a little bit of everything; lift, plump and even augment for a more defined look. But the biggest wow-factor is that Versa doesn't cause any post-injection swelling, which means you're on your way faster, and you can keep it a secret if you'd like.
If you'd like to learn more Versa, or if lip fillers are a good bet for you, please come and visit our super talented staff. We love to answer questions and put any doubts to bed, that you may have.  For more information about Versa or any of our other med spa services, please visit or call Colair Beauty Lounge & Med Spa in Gilbert, Arizona at (480) 923-6138