200,000 services performed on nearly 8,000 clients.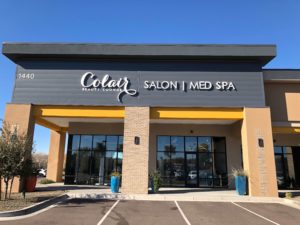 GILBERT, Arizona — Colair Beauty Lounge & Med Spa celebrates its 4th year anniversary since opening to the Gilbert community. With a profound commitment to inner-beauty and pampering, Colair Beauty Lounge & Med Spa in Gilbert, Arizona, is a wellness destination. The secret to our high ratings is a strategy of state-of-the-art beauty treatments, a highly-trained staff, and a foundation built on providing the customer with a tremendous experience.
Since the launch of the brand, Colair Beauty Lounge & Med Spa has been met with nothing short of a wave of community love and encouragement. Colair provides hair, spa, med spa services for both men and women. In the last four years, Colair Beauty Lounge & Med Spa has provided over 200,000 services to 8,000 Arizona clients. 
Rich Ganley, co-founder of Colair on the 4th anniversary, "We are thoroughly humbled and honored by the tremendous support from the community. When we started Colair, our intention as our name relates was to pamper and love any and all clients and employees that were proud enough to serve."
Looking ahead, Colair Beauty Lounge & Med Spa is continuing to improve and expand on its revolutionary services by way of education, staffing and cutting-edge treatments. With the growing population of the East Valley, Colair is rising to meet the demand with future plans of a possible explanation and mobile services. 
In closing, co-founder Dallas Sloan says, "To our clients, friends, and team, thank you for supporting and growing with us the past four years. Colair was started with the vision of providing pampering services in a relaxing environment, all while encompassing both clients and staff with the feeling that they're family. We are blessed to belong to the community of Gilbert and thank you humbly for sharing the past four years with us."